Our chemical department is equipped with technologically advanced scientific instruments and equipment that allow us to use the most up-to-date instrumental analytical techniques, including:
Gas chromatography (GC) with electron-capture detectors (ECDs) and flame ionisation detectors (FIDs), gas chromatography-mass spectrometers (GC/MS) and gas chromatography-tandem mass spectrometers (GC/MSMS), headspace gas chromotography-mass spectrometers (GC-HS/MS), high-performance liquid chromatography (HPLC) with DAD, RID, and FLUORESCENCE detectors, Liquid chromatography–mass spectrometry (LC/MSMS), ion chromatography (IC) and gel permeation chromatography (GPC), inductively coupled plasma-mass spectrometry (ICP/MS), atomic absorption spectrometry (AA), UV-VIS molecular spectrometry, and Fourier transform infrared spectroscopy (FTIR).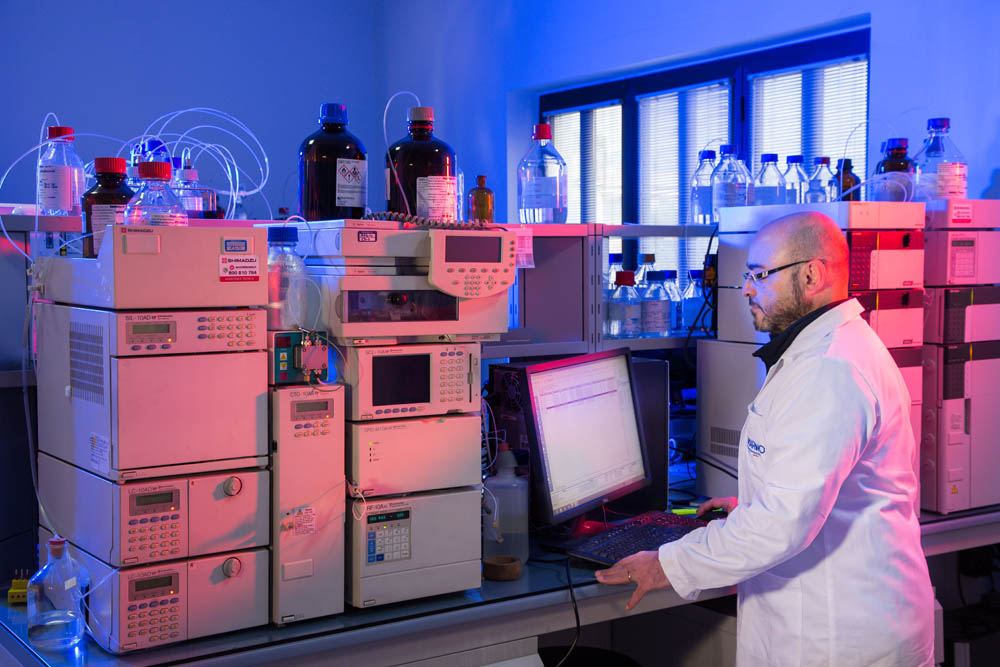 We pay special attention to the dairy sector at our dedicated laboratory, which is fully equipped with the most up-to-date equipment so that we can manage and address issues relating to the dairy sector and derivatives on a large scale.
Our laboratory performs product analyses and quality controls to verify nutritional characteristics and ascertain the presence/absence of limited or forbidden substances.
Veterinary drug research: substances with an anabolic effect (steroid hormones, natural hormones, β-agonists, thyroid hormones); antibacterial substances:
We determine chemical-physical parameters and the composition of milk, including:
Analysis of environmental and anthropogenic contaminants
Multi-residue analysis – Phytopharmaceuticals, pesticides, and individual methods on a total number of more than 800 active ingredients to comply with current legislation quickly, including in just 12 hours in the fruit and vegetable sector
The main classes of pesticide residues we analyse include:
Marino SRL provides analytical support and can test the aromatic composition and volatile compounds of food products.
We test new formulations and identify organoleptic defects, as well as how aromatic profiles develop over time during a product's shelf-life: – Determination of limited aromatic substances – Screening and characterisation of the volatile aromatic fraction of foods via GC/MS-SPME;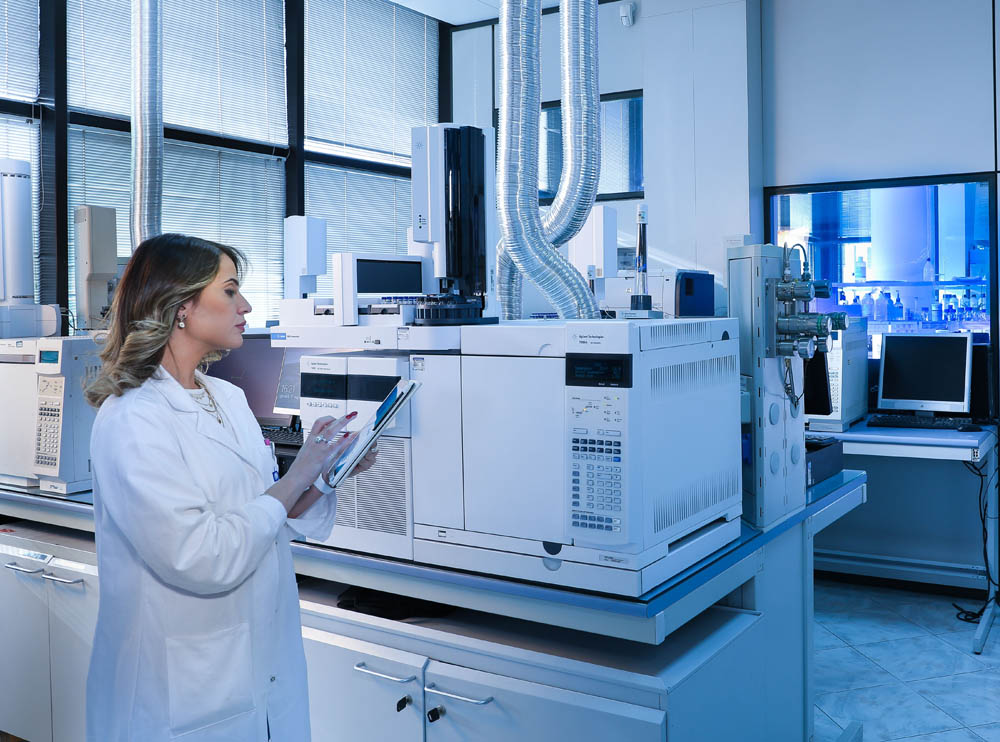 Quality control of mineral water and drinking water
per Legislative Decree No. 31/2001, as amended, and Ministerial Decree of 10 February 2015, implementing Directive 2009/54/EC for mineral and spring waters. Below is a list of the main parameters we monitor: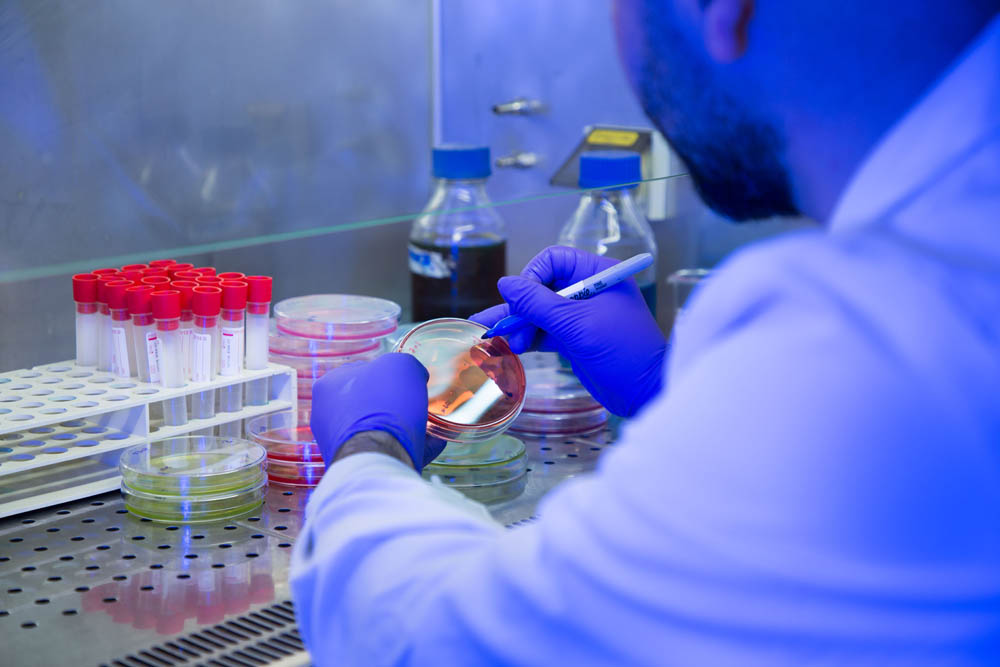 AGRO-ZOOTECHNICAL
MARINO SRL can perform checks and laboratory tests on feed and food intended for animals, for quality control purposes, nutritional analysis, formulation and testing of contaminants in feed, in addition to input raw materials, and company products (silo maize, unifeed, corn mash, etc..):
Our microbiological analysis department is manned by a highly specialised team that provides a service that complies with all legislative requirements and standards defined by APHA, AFNOR, AOAC, FDA, ISO, and USDA.
Our microbiology lab is equipped with modern equipment for basic analysis and testing purposes in the food and environmental sector. Our team can verify the compliance of products to be put on the market, as well as the effectiveness of a company's self-monitoring plan procedures according to the HACCP system for internal production lines to ensure the safety and healthiness of food.
The microbiological investigations we perform effectively on raw materials, finished products, the production cycle, employees, and surfaces of equipment and processing rooms, allow our customers to assess and monitor all hygiene-health indicators, altering micro-organisms, pathogens and possible toxins of food origin, as provided for by current EU and international regulations.
Marino performs testing and safety tests on products, including microbiological shelf-life studies in simulated thermal abuse conditions, in addition to shelf-life studies and challenge tests, to establish the duration of a food's commercial life under certain storage conditions.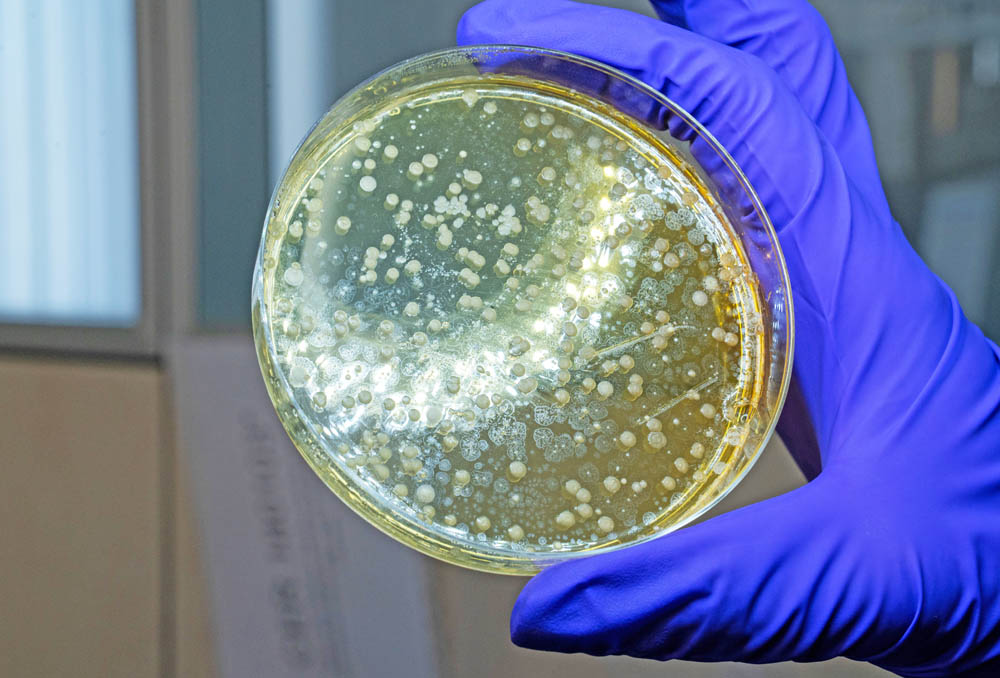 Our microbiology team performs a wide range of microbiological analyses on a variety of products, raw materials, production intermediates, and environmental buffers in the food, feed, and environmental sectors:
Marino also deals with workplace health and safety using a variety of sampling equipment, such as swabs, sponges, contact plates, and plates for microbiological air sampling carried out with SAS (Surface Air Systems) and MASs.
We perform air sampling to verify the effectiveness of environmental monitoring plans adopted in the food and hospital sectors. We can verify that critical areas such as clean rooms and associated environments meet the requirements for controlled contamination environments.
We provide our customers with a team of technicians who adopt Accredia-accredited air sampling methodologies.
BIOMOLECULAR ANALYSIS DEPARTMENT
Our biomolecular team has a dedicated lab where it performs DNA extraction, prepares reaction mixes, and performs amplification and DNA detection. Our biomolecular laboratory is equipped with the latest generation of technologically advanced instruments. Our team can:
We also use fast molecular biology methods using real-time PCR techniques to search for foodborne pathogens: Salmonella spp, Listeria spp and Listeria monocytogenes, with the utmost precision and reliability and results in 24h.
Most of the analytical methods we use are accredited by ACCREDIA. Marino is also recognised by the Italian Celiac Association for the detection and quantification of gluten with the monoclonal antibody R5.